Discussion Starter
•
#81
•
I just upgraded my eMTB to a Devinci AC XT. It is basically like a small MX bike, the geometry and 180mm of suspension feel like a moto. Its f8ckin awesome.
On todays ride my top speed was just over 50mph with an average of 37.6mph on one descent. This descent was not a fire road but a steep fast natural single track with drops and berms. Just awesome and no hassle from anyone.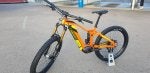 Next week I am going to place I used to ride my motos a lot (with the eMTB), until the police and locals idiots riding on roads without helmets ruined it for us all. I got cautioned with an Asbo last time I was there on the moto.
This will be awesome on an eMTB, and simply no hassle with police or locals.