Discussion Starter
•
#21
•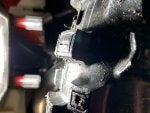 Fitted this morning. Rode this afternoon. 45 miles of mixed forestry, rocky streams/climbs, muddy stone tracks, roots, general woods and forestry brash/logs. Not going silly and spinning to death for no reason but riding normally in the bits that matter. Very wet. Very leafy. I don't think this tyre is for an aggressive wheel spinning type rider. It won't last long but if you are smooth and maybe have some trials throttle experience I reckon you'll love this tyre.
Starcross 5 soft front. First half hour a bit sketchy up front with a brand new mousse and tyre in wet woods as last time I was on mousses was 2018 W2D! After 30 mins though and some fork clicker tweaks it felt ace. The sx5 soft feels very much like anything else at around 10 psi but it's really good on side slopes and flat turns covered in leaves. No complaints.
Rear Xtrem. As expected it grips and rolls into corners like a medium. Feels really smooth and doesn't break traction on rock slabs on the 150. Bear in mind it as a new 120 mousse in it felt like an Mx tyre at around 6 psi on Tubliss at first which isn't bad at all brand new. 30 mins in though and you suddenly realise how much you spin with normal tyres as when it grips you just get drive. Obviously new knobs are helping in soft stuff/mud but it gets great drive on muddy stony tracks. One uphill rocky stream I ride you normally pick a gear and throttle position and hang on, paddle and battle up it. With the xtrem you still paddle in places but you get better drive which means you can lift the front over edges and ledges easier. This is a small difference but over a three hour race on this type of stuff and you'd be less tired for sure and getting drive where others are not.
Anyone using this tyre at Tong will have an advantage I reckon. Without doubt it's crazy expensive but it does work. It's also got two (white) stripes on it so now you can get a Michelin Extreme tyre with stripes!....if you can afford it.
It'll end up with a nickname of "the rich mans advantage" very soon I reckon.
I'll definitely be getting another even at £99 and use it on events with stony going or places like Nantmawr and Tong.
I'll now ride this one till dead/bald to see how long it lasts.