Discussion Starter
•
#1
•
I bought this for my son last Christmas, but the time has come to move him up to a petrol cc bike. It has been a brilliant tool for getting him (and his mother) comfortable with riding bikes.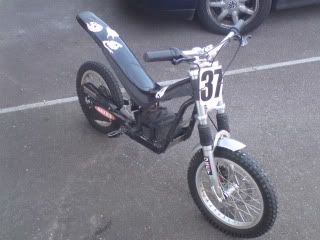 It's the Oset 16.0 24V model
It has 3 sets of batteries, new charger and a new rear tyre has recently been fitted (he learnt how to do a "burnout"
Beauty of the bike is that there is no noise - we can happily take this over to the playpark and ride it around the green without any trouble, even had a few compliments on it.
The speed can be restricted right down to a walking pace and turned up as they progress
more info can be found here
OSET electric mini dirt bikes. Trials bikes.
in action
YouTube - OSET - 7 Year old 100' Wheelies!!
It's up for £350
for any other info give me a bell, 07773 781183
cheers
Spud